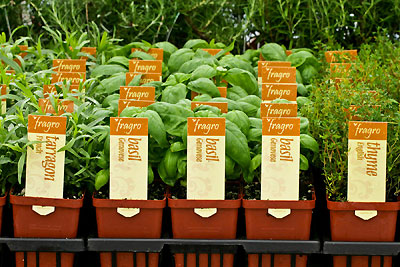 There is great value in having a high quality products to offer your customers. High quality plants offer retailers a number of potential benefits, including a greater perceived value, improved inventory turns, enhanced customer satisfaction and reduced maintenance leading to lower waste, all of which can help add to the bottom line.
We pride ourselves on producing and selling only the finest quality plants. Each plant is carefully selected, graded and quality checked to be sure our retail partners receive only the best. With our high standards, eye catching presentation and carefully chosen selection, Fragro® is quickly becoming recognized as a brand leader in the category of herbs and edible plants.
Fragro® herbs and edible plants are presently sold only through our garden retailer network in Western Canada. If you are interested in your store joining our network and becoming a Fragro® dealer please use this form to get in touch. We would be happy to discuss this opportunity with you.

We are a wholesale supplier, consumer inquires can be directed to any of our local garden retail partners, who would be happy to answer your questions on Fragro®herbs.
Wholesale Customer Login


Inquiries
If you would like to contact us or get a dealer login please fill out the form below and a representative will get back to you shortly. All fields are required.